What We Offer
AssumeList™ is the first-of-its-kind real estate tool that allows homebuyers, investors, agents and brokers the ability to find homes for sale with assumable mortgages.

Developed from the ground up, AssumeList™ enables subscribers to search for homes with either VA or FHA assumable mortgages regardless whether they are actively listed or non-listed.

100% of AssumeList™ homes contain an interest rate below 5%; the vast majority have rates of 3.5% and lower.
VA and FHA loans are assumable!
What is an Assumable Mortgage?
An assumable mortgage allows the buyer to purchase a home by taking over the seller's existing mortgage.

Both VA and FHA loans are assumable, and anyone can assume either a VA or FHA loan.

For VA assumptions, the buyer is not required to have VA eligibility.

Benefits of an assumable mortgage:
✓ Buyer assumes seller's existing interest rate
✓ Buyer assumes seller's remaining loan term
✓ No appraisal
✓ Reduced closing costs
✓ No VA Funding Fee*
*There is no VA Funding Fee however the VA does charge a 0.5% flat assumption fee on all assumption loans. This fee is waived for veterans with a service-related disability rating or surviving spouses of veterans who died in service or from a service-related disability.
Why Assumption Loans Matter
Average interest rate over 50 year period = 7.75%
Average interest rate since 1990 (post-Volcker era) = 6%
Example Scenario: $800K Home Purchase
New VA Loan
| | |
| --- | --- |
| Down Payment : | 5% |
| Interest Rate : | 7.50% |
| VA Funding Fee : | $12,540 |
| P&I Payment : | $5,314 |
Assumable Loan
| | |
| --- | --- |
| Down Payment : | 5% |
| Interest Rate : | 2.50% |
| VA Assumption Fee : | $3,800 |
| P&I Payment : | $3,002 |
Save 40% or more!
Search For Properties
And save thousands on your mortgage payment
Case Study: Northern Virginia
Over 50,000 homes in just Fairfax and Prince William Counties have a VA or FHA assumable mortgage with an interest rate below 5%!!!
1 in 15 homes sold in Fairfax County
1 in 6 homes sold in Prince William County
This data is representative of many other regions nationwide, including Southern California, Arizona, Colorado, Texas, Florida, Georgia, and North Carolina, among others where a high concentration of VA and FHA buyers reside.
*Source: 2020 Census Data
Mortgage Rate Forecast
Fannie Mae: 30-year mortgage rates will average 7.1% through Q1 2024, tapering back to 6.7% by Q4 2024.

Zillow Senior Economist Jeff Tucker: "The best bet is that we continue to see mortgage rates in the ballpark of current levels, generally 6.5% to 7.5%."

Mortgage Bankers Association (MBA): "2024 rates expected to range from current levels possibly tapering down to 6.1% by the end of 2024."

National Association of Realtors (NAR) Chief Economist Lawrence Yun: "The new normal for mortgage rates looks to be near 7% for the 30-year fixed rate."
Takeaway: Top industry experts predict mortgage rates will generally remain between 6.5% – 7.5% over the next 12 months. Furthermore, experts do not expect rates to drop below 6% in the foreseeable future even after the Federal Reserve tapers quantitative tightening measures.
AssumeList™ Features
AssumeList™ is a fully featured home search tool that provides users with market insights unavailable through other means.

With AssumeList™ you can:
Agent Use Case
AssumeList™ creates powerful marketing opportunities for agents by supercharging their ability to leverage the market shift.

Agent-only features: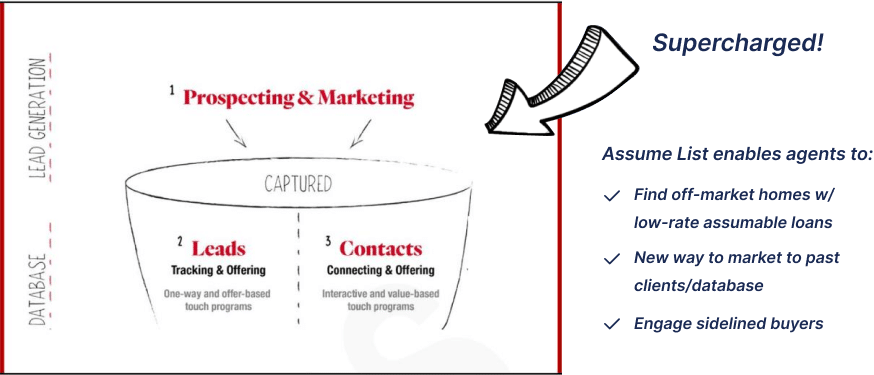 Have a Question?
We're Ready to Serve!
Need help with how to use AssumeList™ or have a general question? Drop us a line and we'll respond back to you in double time fashion.